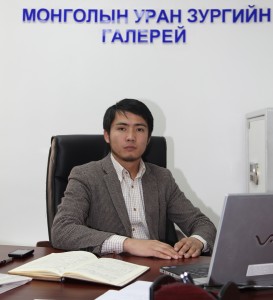 Ladies and Gentlemen,
It is a pleasure to welcome you to the Mongolian National Modern Art Gallery. As Mongolia's largest contemporary art museum, we are dedicated to presenting innovative exhibitions by the finest local, national and international artists.
In 1991 the MNMAG separated from the Fine Arts Museum of Mongolia and became an independent organization dedicated to increasing public appreciation for Mongolian modern visual artworks.
Almost two decades later, we are delighted to announce the beginning of a new phase of Gallery development. Propelled by a fresh vision of the Gallery's future, we are implementing a new management strategy which will inspire hope and improve our services to the public.
It is a pleasure to greet you on this new website which represents a significant part of our new strategy. Through its new online presence, the Gallery's valuable collection of modern Mongolian artworks is now more widely accessible both locally and internationally. Using our website we invite you to browse the latest news and obtain information about new exhibitions and art education center activities.
We are also very pleased to announce a major international exhibition event that will be hosted by the MNMAG in September 2010. The 25th Asian International Art Exhibition is a major opportunity to showcase Mongolian culture and to stimulate artistic creations. We look forward to exhibiting the work of 14 countries and exchanging views with the visiting artists and other delegates.
I warmly welcome you to our new website and hope you have the chance to join us at the Gallery for some of our exciting new programs.
May the art spirits bless you all.
Batbaatar.N
Director, Mongolian National Modern Art Gallery